"Drawing on Nature, Intimacy, Anxiety"
Artists:

Camille Demarinis, Hye Young Kim and Millian Pham Lien Giang.
Date:

 March 18- April 1, 2021
Venue:

Diggs Gallery @ Winston-Salem State University
            601 S Martin Luther King Jr Dr, Winston-Salem, NC 27110
            All drawings are displayed at the Diggs gallery, but no visitors.
NATURE: Camille Demarinis' Drawings (see Photo Grid below) 
NATURE: Camille Demarinis' Artist Statement
Works completed in 2020 were painted en plein air on location. The work is simple and to the point: my impression of the natural world at that time and in that place. This series captures conversations between myself and the landscape. I gravitate towards glimpses of the "everyday" and areas that are "off the beaten path." Creating this work is cathartic and serves as a reminder that every location can hold as much wonder as we bring to it. Works completed from 2019 and earlier are meant to inspire intrigue about the ephemerality and fluctuation of place. Unsettling viewpoints of growth, destruction, and human alteration of the landscape are some of the concepts which inspired these pieces. I hope to prompt the viewer to find additional value in the natural spaces that they see every day or to create a more meaningful connection with the world surrounding them.
NATURE: Camille Demarinis' Biography
Camille Demarinis grew up in Door County, WI surrounded by the waters of Green Bay and Lake Michigan. She received a BFA from Cardinal Stritch University in Milwaukee, WI and an MFA from the University of Florida in Gainesville, FL. Through her fine art practice she explores the landscape—capturing a personal glimpse of the world. her work has been featured in shows across the United States including Oregon, New York, Wisconsin, Illinois, Florida, Hawaii and the Carolinas. Camille now lives and works amidst the landscape of North Carolina.
INTIMACY: Hye Young Kim's Drawings (see Photo Grid below)
INTIMACY: Hye Young Kim's Artist Statement
I have explored intimacy in dynamic human relationships through body performance videos and drawings since 2014. Intimate Distances Drawings are based on the participatory performances in which two people close their eyes in 3 minutes and keep the closest distance by not trying to touch each other. Intimate Distance Drawings aim to capture the psychological 'intimate moments.' I believe that intimate human relationships have a power of transformation to define our identity. These drawings visualize the dynamics of intimate human relationships in various ways from representative portraits to colorful abstraction using soft pastels. Intimacy is a sense of closeness or togetherness shared with another person in a relationship and composed of knowledge, caring, interdependence, mutuality, trust, and commitment. Lack of intimacy affects loneliness, depression, social isolation, and a compromised self-esteem therefore intimacy is a fundamental human desire to understand human existence. I hope that Intimate Distance Drawings invite people to have an active dialogue about experiences, struggles, and challenges of their intimate relationships.
INTIMACY: Hye Young Kim's Biography
Hye Young Kim was born in the city of Gongju in South Korea. She received her BFA in painting from Korea University, South Korea in 2007, and her MFA in painting at Washington University in St. Louis in 2009 and second MFA in Art and Technology at University of Florida in 2013. Currently she is teaching as Associate Professor of Art in the department of Art and Visual Studies at Winston-Salem State University in North Carolina. As a visual artist, she has investigated human existence in the physical and psychological aspects by integrating traditional art-making techniques (drawing/painting) with experimental video and performance. Kim's work has been exhibited throughout the United States, Europe and Asia. 
ANXIETY: Millian Pham Lien Giang's Drawings (see Photo Grid below)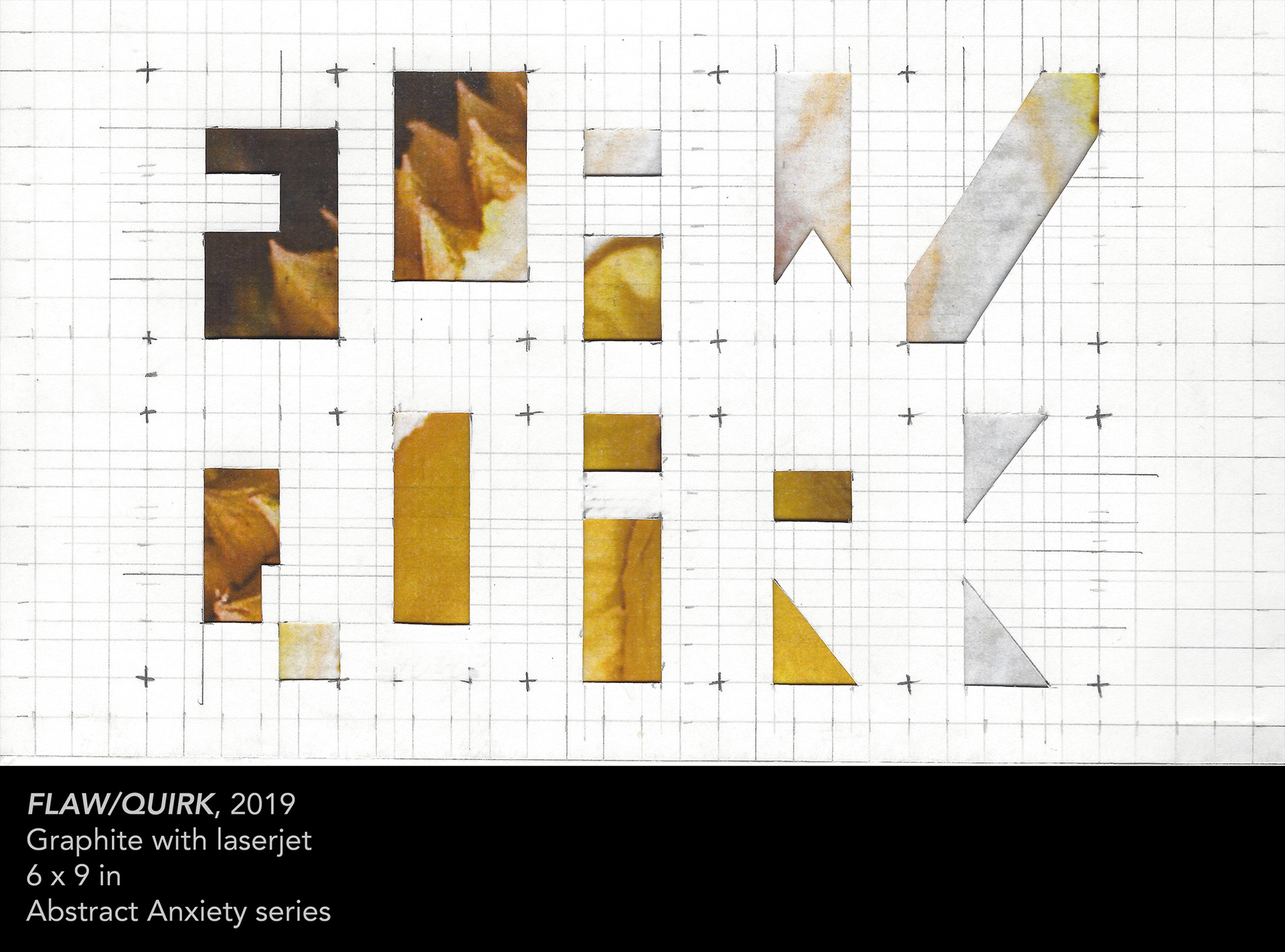 ANXIETY: (Millian) Giang Lien Pham's Artist Statement
In my current body of work entitled Abstract Anxiety, small compositions switch from printed images to hand drawn text. Larger compositions switch embroidered text with painted imagery to revaluate the framework of fine art and seemingly lowbrow craft. Images such as durian, jackfruit, rambutan, cashew, and other exotic fruits are placed behind drawn words that allude to class warfare and Otherness—issues that affected my ability to communicate with my parents and many people around me. I'm interested in highly abstracting these words to the point of near illegibility, hiding phrases and presenting them as ambiguous visual puzzles. Since the answer to each puzzle is provided in the title of each piece, the works aim to reorient the viewer toward issues beyond mere appreciation of surface elements. It is an opportunity to navigate toward deeper dimensions through the mode and code switching of visual and verbal perception.
ANXIETY: (Millian) Giang Lien Pham's Biography
After trampling in the muddy rice fields of Vietnam then misreading product labels in the United States, (Millian) Giang Lien Pham received her BFA in painting and printmaking from the University of Tulsa in Oklahoma and her MFA in sculpture from the University of Florida. Pham's art practice stems from her traumatic childhood in Vietnam and the painful adaptation in her adopted America. Her works highlight the intangible effects of social and political structures on the body. She works with the materials of sculpture, fiber, video, drawing, collage, and verbal language through larger installations and performances. Her research has been exhibited nationally and internationally in Canada, Pakistan, Korea, and across the United States. Pham was a fellow for the I-Park Artist Enclave, the Hambidge Artist, and the ACRE residency program, and will serve as a resident fellow at the Santa Fe Art Institute's Labor Residency in June 2021. She currently teaches and practices art in Alabama. Pham has participated in SECAC panel presentations and been involved with FATE since 2017. She seeks to be more involved in both organizations by serving in the post of SECAC Representative.